Board of Directors

Reverend Garland D. Higgins

Dana P. Higgins

Roslyn Johnson

Glenda Salley

Workshops

(scheduled as requested by a ministry to hold TDV workshops at various area churches)

What is Teen Dating Violence?

Types of abuse

Warning signs

Myths and facts

Effects on victim

Impact on entire family

Victims rights

Dating violence statistics

(city, state, country, worldwide)

Contact Us

Reverend Garland Higgins

Founder and Executive Director

P.O. Box 2395

Hartford, CT  06146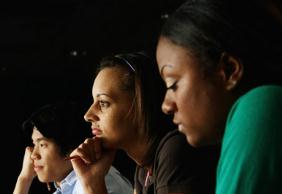 support is free and confidential: 860.916.7298
Copyright © 2012 God's Glorious Girls, Inc. All rights reserved.